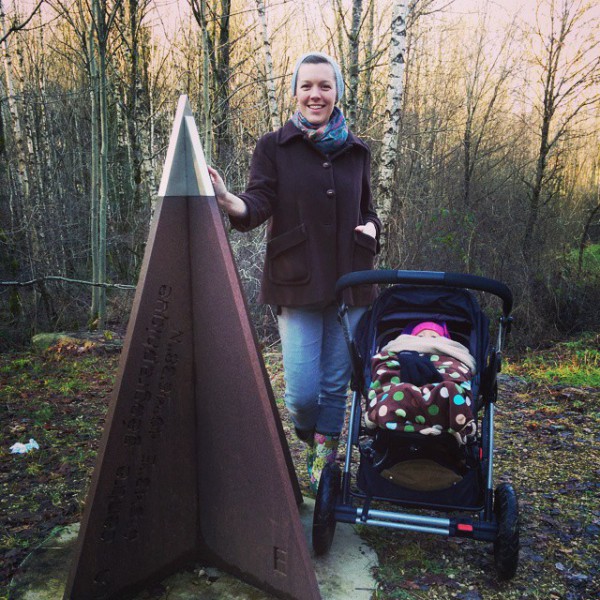 This has been a slow month, in a good way mostly. My days are full of not very much – play with my wee girl, make more baby food, try to fit all the cleaning and emails and projects into the few hours she naps. There is lots of space for imagining and day dreaming and planning a hundred future things, and not a lot of space for doing any of them. I'm tired all the time.
But I'm happy too. I get to see Kaya changing and developing in new ways every single day. It's incredible. Even when I'm tired and frustrated. And I'm (present tense) learning how to hold all those ideas and dreams in open hands, wait to see which ones will take flight one day.
This month I've been mostly…
reading.
I finished up The Invention of Wings, by Sue Monk Kidd, which I really loved. It's the second novel I've read by her. I'm curious to try reading some of her memoir soon.
I've started reading People of the Book by Geraldine Brooks, which I found in a second hand stall just before Christmas. It's an intriguing book so far but I'm also not entirely sure I enjoy her writing style, there are so many odd jumps in the action. But maybe that's all going somewhere…
My next book club read is All the Light We Cannot See, by Anthony Doerr, which I am taking away on holiday with me to the French Alps this week. Heard so much good about this one!
eating.
It's such a treat to have more time to bake and cook again, now that Kaya takes longer naps during the day. These fig and hazlenut biscotti, using this recipe from Smitten Kitchen are a favourite (I've made them before with walnuts but only had hazlenuts in the flat this time).
Surprise success of the month goes to this Aloha Meatloaf. I made it feeling somewhat skeptical, but Rasmus and I wolfed down about 75% of it in one meal. So good.
We also did a "brunch for dinner" meal this week, when I tested out this Harvest Breakfast Braid. Next time I'll increase the nuts, cranberries and cheese, and lower the marmalade. But it's really good.
It's been the month of new and unusual (for us) ingredients:
Black beans,which I made these Butternut Squash and Black Bean Enchiladas with (I used pumpkin) – simple and yummy. Rasmus was cynical but even he enjoyed them. And then I used up the rest in Black Bean Brownies. They tasted good but the texture was still a little, well, beany.
Kale, the first time I've ever spotted it in Luxembourg. I made this Cream of Mushroom Soup Rigatoni Bake with Bacon and Curly Kale (I used sausage instead of bacon and shop-bought soup) which was yummy. And used the rest in kale chicken cheddar burgers that Kaya wolfed down (I created a "food for tinies" pinterest board if you're at that stage too!)
Red cabbage – not so unusual but the one I bought was enormous and we were getting sick of red cabbage salad. One winning recipe was this Purple Smoothie – who knew cabbage in a smoothie would taste good?!
watching.
Rasmus and I started watching Homeland and made it through season 1. It's on the top end of what I can cope with on the scary scale (I'm easily spooked) but I liked it mostly. It's not the most layered analysis of terrorism and Middle Eastern politics, but since we're both usually tired enough that one of us (ahem, Rasmus) always falls asleep mid-episode, that's maybe a good thing.
I also watched a few films for the first time in months. Salmon Fishing in the Yemen was a book I read last year so I was interested to see what the film would be like, especially since it has Emily Blunt starring, and I am mildly in love with her. The film was good, but not great. The storyline had changed quite a bit, and I much preferred the grittiness of the book to the romcom film version.
I also watched Seeking a Friend for the End of the World. I really liked this one. It's sweet and funny and thought-provoking. And Keira Knightly is only a little bit annoying in it. One night when Rasmus was out I went all romcom and watched He's Just Not That Into You, which was a fun film.
listening.
Rob Bell launched a new podcast (the "RobCast"!) this month and I really enjoyed his first episode. It was a timely reminder about saying no to the wrong things, so I can say yes to the right things.
exploring.
Rasmus and I have resolved to make the most of however much time we have left as a dual-unemployed couple. For all the downsides, there are so many silver linings too, not least having time as a family to go exploring. We've made a list of local places we've been meaning to get to and are starting to tick them off.
This month we found the centre point of the Luxembourg in the middle of a forest north of Mersch, and we did a day trip to the German city of Saarbrucken, which was a little unimpressive but we found Mexican food and a Starbucks, so all in all, a success!
on the blog.
The post I've been working on for six months went live – Kaya's birth story, on feeling like I'd failed and how I learnt to redeem that memory. And I told you my new word for the year…
Linking up as always with the lovely Leigh Kramer. These posts have become surprisingly important to me. It's such a good way for me to record time passing, to reflect on what I've done and why I did it. Anyway, click over there to find everyone else's links and a whole realm of new inspiration…
{ 0 comments }